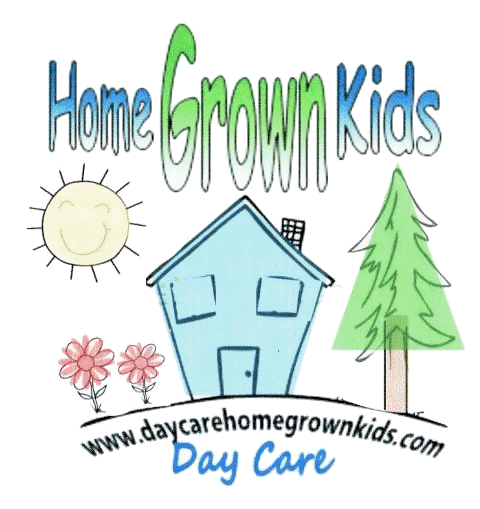 Home Grown Kids Day Care policies and procedures, are put into practice to establish general standards for all parents and children. By being a small daycare I do allow for some flexibility so feel free to ask if you need small adjustments.
Standard Day Care Features
- Large decorated playroom
- Fenced yard with swings
- Close to the park
- Regular daily program
- Lunch and snacks provided daily
- Current police background check
- Non smoker
- No pets
- Excellent references
- Yearly tax receipts
- Liability coverage
- Over 15 years of experience
Special Day Care Features
- Special day trips
- Focused structured learning themes
- Summer homework club
- Quartile news letters for parents
- Flexibility for parents with daily schedules
- A consistent care provider
- a large park with splash pad and awesome play equipment a 5 minute walk
What is Provided

for Parents
- Daily lunches and snacks (menu available)
- No spill cups & bibs
- Beds, blankets, cribs
- In and Outdoor toys
- Strollers, wagon
- Highchairs
What Parents Need

to Provide
- DISPOSABLE DIAPER/TRAINING PANTS (minimum 4 per day)
- ALL BOTTLES/FORMULA & BABY FOOD REQUIRED DAILY
- SPECIAL CUDDLY/BLANKET AND/OR SOOTHER
- FULL EXTRA CHANGE OF CLOTHES (seasonal)

Let's face it young children get sick often, it is the way they build their immune system. To create a healthy environment a child who is ill must be kept home. Please make other arrangements for the care of your child, if your child is ill, has a known contagious condition, or has any of the following symptoms:
Diarrhea (three or more watery stools in 24 hours).
•Vomiting (two or more times in 24 hours).
•A fever (a temperature of 100 degrees Fahrenheit or more).
•A sore throat (with fever or swollen glands).
•An eye infection.
•Rash (especially with a fever or itching).
•Lice or nits (please call and alert us; I will examine everyone without mentioning any names or causing any child embarrassment).
I will administer medication only at the request of parents. The medication must be in the original container as dispensed by the pharmacy. If I administer medication a written note will be placed with the medication informing parents of the time and amount of dosage given throughout the day.
In the event of an emergency, I will contact the primary phone number on file requested by parents, then subsequent contact numbers if necessary.

Some children love bringing toys with them wherever they go. Although there are plenty of toys provided I do not discourage the bringing of toys, my policy is as follows.

If a child brings a toy they will be encouraged to share with the other children. If they refuse to share the toys will be placed in their back pack to be returned with them when they go home. I endeavor to make sure that children respect all property but there are on occasion accidents and toys get broken. Please be aware of this when sending expensive or sentimental toys.

Obviously this policy does not include personal stuffies, blankets, and or sleep toys. The children are taught to respect these types of toys as personal and special toys.